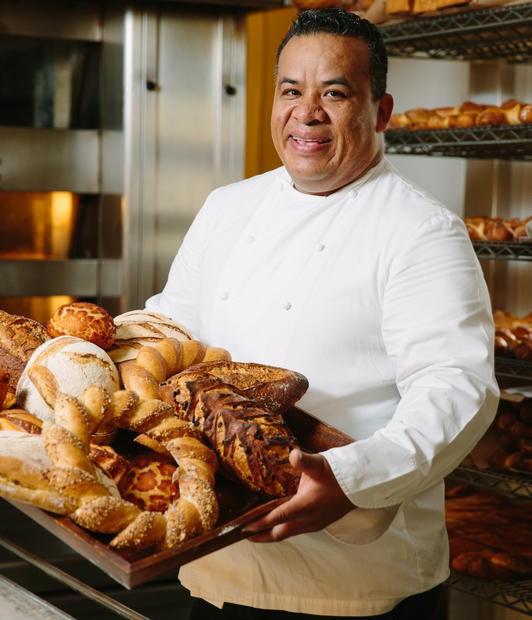 Octavio Alcantar
Head Baker
As head baker for Thomas Keller's original Bouchon Bakery in Yountville, Calif., Octavio Alcantar oversees a team of chefs and is responsible for the bread production, not only for the bakery and its wholesale accounts but also for The French Laundry, Bouchon and Ad Hoc.
Octavio began his career with Chef Keller in 1994, shortly after The French Laundry opened. At the three-star Michelin restaurant, he started as a dishwasher and later progressed to the savory commis team, working alongside notable alumni, including Grant Achatz, Stephen Durfee and Mark Hopper. Then, he was recruited to the pastry team, where he moved from commis to chef de partie to pastry sous chef.
He left The French Laundry in 2005 to open El Dorado Kitchen in Sonoma and serve as the restaurant's pastry chef. Four years later, Octavio was appointed the pastry chef at Barn Diva in Healdsburg.
He returned to Yountville in 2010 to be the pastry sous chef at Bouchon Bakery, overseeing the wholesale production before being promoted to assistant head baker and, most recently, head baker.
Octavio attended the Culinary Institute of America – Greystone in Saint Helena, Calif., completing the course Foundations of the Kitchen.