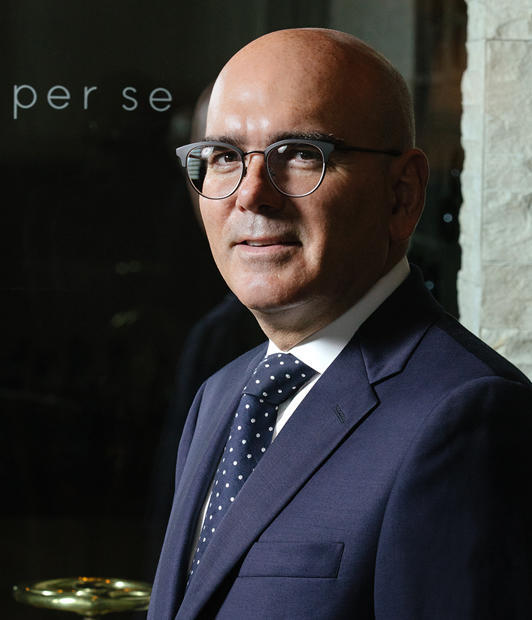 Michel Couvreux
Beverage Director
As Beverage Director, Michel Couvreux develops the beverage programs for Chef Keller's casual and fine dining restaurants. He relies on his tenure as Beverage Director, East Coast and as head sommelier at Per Se, where he managed their extensive wine program and developed the wine education program for the restaurant's dining room team. Couvreux joined Per Se in September 2009, bringing 20 years of experience at some of the world's top dining establishments. During his tenure, Per Se was recognized by Wine Spectator for its extraordinary wine program and received the Grand Award in 2013 and in each subsequent year. In 2018, Wine Enthusiast inducted Per Se into its Restaurant Hall of Fame for continual recognition of appearing on America's Best Wine Restaurants.
Couvreux launched his career in his native country, France. There, he held posts in top restaurants throughout Paris, including the three-starred Michelin Restaurant L'Arpege and Restaurant Guy Savoy. In 1993, Couvreux relocated to New York City to work as a sommelier at Restaurant Bouley. Shortly after, he garnered the post of Head Sommelier at Eric Ripert's Le Bernardin, where he spent ten years developing and managing the restaurant's wine program. Couvreux later joined Restaurant Cru, where he managed the restaurant's Grand Award Wine list. 
Couvreux holds an Advanced Master Sommelier Certificate from the Court of Master Sommeliers. Additionally, he has received numerous accolades for his contributions within the industry, including "Top Wine List New York City" from Gourmet magazine for his work at Le Bernardin, Wine Spectator's "Best of Award of Excellence" along with the recognition as "One of the great Sommeliers in America" by New York Magazine. He has also been profiled in The World of Fine Wine and in Wine Spectator.